A great place to work
Commercial Lettings
Available Units
For details of available units and retail opportunities within the Centre, please contact Tina Bennett, centre manager, or our letting agents:
James Peasnell
JP Retail
Tel: 020 7039 0132
james@jpretail.co.uk
RMUs and Promotional Space
We are pleased to offer RMU and Promotion Space Opportunities at the Westgate Shopping Centre in Stevenage.
With over 30 units, including River Island, Dorothy Perkins, H&M, Bonmarche, Miss Selfridge and a varied catering provision, Westgate Shopping Centre is an established and important local and regional shopping destination. The centre boasts over 100,000 visitors a week.
As well as RMU's, we offer promotional space for traders who wish to operate from their own equipment or to simply promote their business. We work closely with traders to maximise the opportunities for all parties.
For more information call either Tina Bennett or Holly Hall on 01438 740696 or email tina.bennett@westgateshopping.co.uk or holly.hall@westgateshopping.co.uk
---
Washroom Advertising

In partnership with Positive Media Marketing, we have captive, low price and really effective 'A3 washroom poster frames' strategically placed in high dwell/captive areas such as ladies cubicle doors, above the male urinals and hand dryers....prefect for reaching your target audience!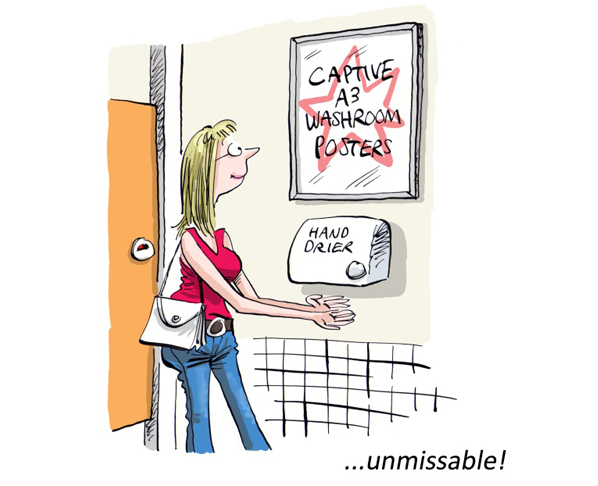 Please email simon.grant@positivemediamarketing.co.uk Simon Grant or call him on Free Phone 0800 915 4444 if you are interested in promoting your organisation exclusively (no competition to worry about) to thousands of locals in a proven way or visit www.washroomadvertising.co.uk